GET TO THE ROOT OF WHY YOUR DOG IS JUMPING
Generally speaking, dogs jump because it works. It provides them with attention, physical connection to you, and can provide an outlet for frustration and excitement.
It's worth noting that if a dog is fearful or uncomfortable around new people, jumping can serve as a way to gather information about the person, and may not be a friendly behavior. In these instances, please contact a qualified behavior professional in your area.
If you're concerned that your dog could be jumping on you as a way to assert dominance, you can set those fears aside! It's been well-documented in the latest scientific research that dogs do not seek a status hierarchy with humans; the article linked here was actually written by the scientist who originally coined the term "alpha" in regards to wolves and their social relationships.
NOW THAT YOU'RE ARMED WITH THIS INFORMATION, I CHALLENGE YOU TO REALLY TAKE A LOOK AT YOUR DOG'S JUMPING AND THE CONTEXT IN WHICH IT HAPPENS.
Do they jump when they're most excited to see you? How about when they're looking for play, or your attention when they're bored?
Thinking about these instances, what is your reaction when your dog jumps? Do you pet them or start to play with them (sometimes it happens without us even realizing!), do you yell and/or push them away, ignore them, or try to say "off" to no avail?
Any of these responses could serve to reinforce the behavior, as they all provide an opportunity for your dog to rehearse the behavior, and potentially receive some sort of attention for doing so.
Once you can pinpoint the scenarios that seem to elicit this behavior for your dog, and also recognize your own behaviors that may be influencing the behavior, we can begin to utilize management and training strategies to really get to the root of how to stop your dog from jumping.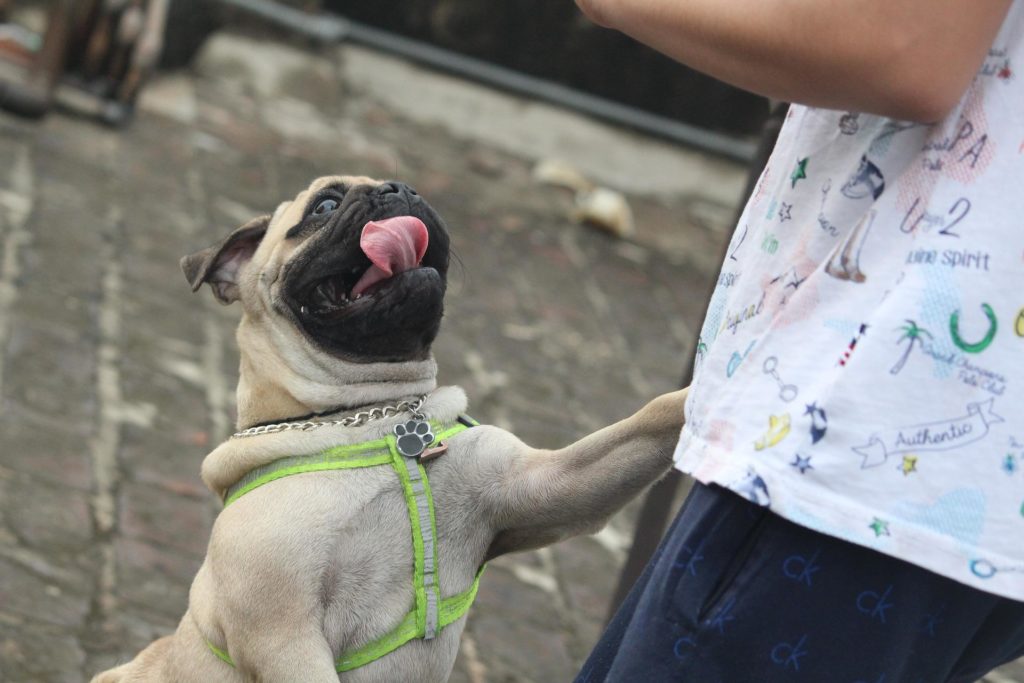 IMPLEMENT MANAGEMENT STRATEGIES TO PREVENT YOUR DOG FROM REHEARSING THE BEHAVIOR.
The first step for how to stop your dog from jumping is to utilize management strategies that prevent your dog from repeatedly practicing the unwanted behavior.
This step is often overlooked in a training plan, but it's critical to long-term success.
Which management strategies are right for you will depend greatly on the setup of your home, the root of your dog's behavior, and the level of severity of the jumping.
BUT HERE ARE A FEW IDEAS THAT YOU CAN TAILOR TO YOUR INDIVIDUAL SITUATION:
First, ensure your dog's needs are being met. Determine if your dog is receiving appropriate amounts of food, water, and rest, and consider increasing their aerobic exercise a well as the mental stimulation they receive. Hanging out in the backyard just isn't enough for most dogs!

If your dog jumps on guests, set up a barrier between your dog and your guest when they initially enter. This could be a baby gate, a harness and leash, a playpen, or a crate.

When you do allow your dog to meet your guest, have them on a chest-clipped harness (we like the 2 Hounds Freedom Harness or the Blue-9 Balance Harness) and

Ask your guests not to pet your dog if they do jump, and you'll be able to remove them from accessing your guest using the leash.

If you're having a guest over that you feel won't be able to follow your instructions (a young child, for example) put your dog away until they've calmed down, and then bring them out on a leash if needed.

Heavily focus on rewarding your dog for getting it right! Any time those feet are on the ground, that's an opportunity to reward with petting, attention, and food! It's critically important that your dog has behaviors they can offer.